Latest Articles
Lets see your Linkman's without props or spades
Ive broken down the Linkman category into the lines without props or spades, props, and spades.

Lets see your Linkman's without a prop or spade

Someone go first:
Savoy: Stem/Tenon question
I picked up my first Savoy last week as an estate at my local tobacconist. I'm a newbie, and thought Grabows typically fit a 6mm filter (or have some kind of cleaner/stinger apparatus). What's the story with mine-- is this stem standard on the Savoys, or on certain pipes in a certain era of Grabows?



...
Texture Work: Rustication and Blastication
Most of the work that I do with pipes requires me to play by the rules and color within the lines. I very much enjoy the challenge of that, but it's nice to throw caution to the wind every now and then and hack at an innocent pipe like Jason Voorhees with a promiscuous college freshman. So, I thought I'd show off some of my more or less recent texture work for some input.

This first one I just finished. It was a no-name Italian-made pipe with a nice shape, but a few large fills and a sloppy f ...
A couple of questions about So La Res Pa
Wow! Just... WOW! I just stumbled across this thread again and I'm sorely ashamed that I was absent while this conversation was active. Ken Barnes and Tom Douglas reminiscing together in the same thread is more than I could have ever asked for. I'm so glad that we have the technology to make something like this happen. Thanks to both of you gentleman for sharing this information with us. Now, pardon me while I continue squealing like a little girl.
What makes Dr. Grabow pipes special?
I guess all of us have particular reasons for being drawn to Dr. Grabow pipes-- historical, aesthetic, functional, personal associations...

What are yours? What is the particular appeal of Dr. Grabow pipes for you?
And why Grabow more, or rather than, other classic American (or foreign) pipes?

Just curious what everyone has to say about this! Thanks all...
Grabow briar quality
There have been some questions about our quality so I'll try to explane a little about it.

Stummels came from the Briarshop and were rough sanded with 180 grit sandpaper.

Stummels were then dry selected. Just examined to see how many imperfections were in each. They were selected into 8 catagories. #1's were perfect.. #2's were allowed to have up to 3 tiny black spots.#3,4,5,6 got progressively worse in quality..... #7's were barely good enough to make a pipe and #8's were firewood. &nbsp ...
Finally ordered a Royalton 45
The 45 has arrived!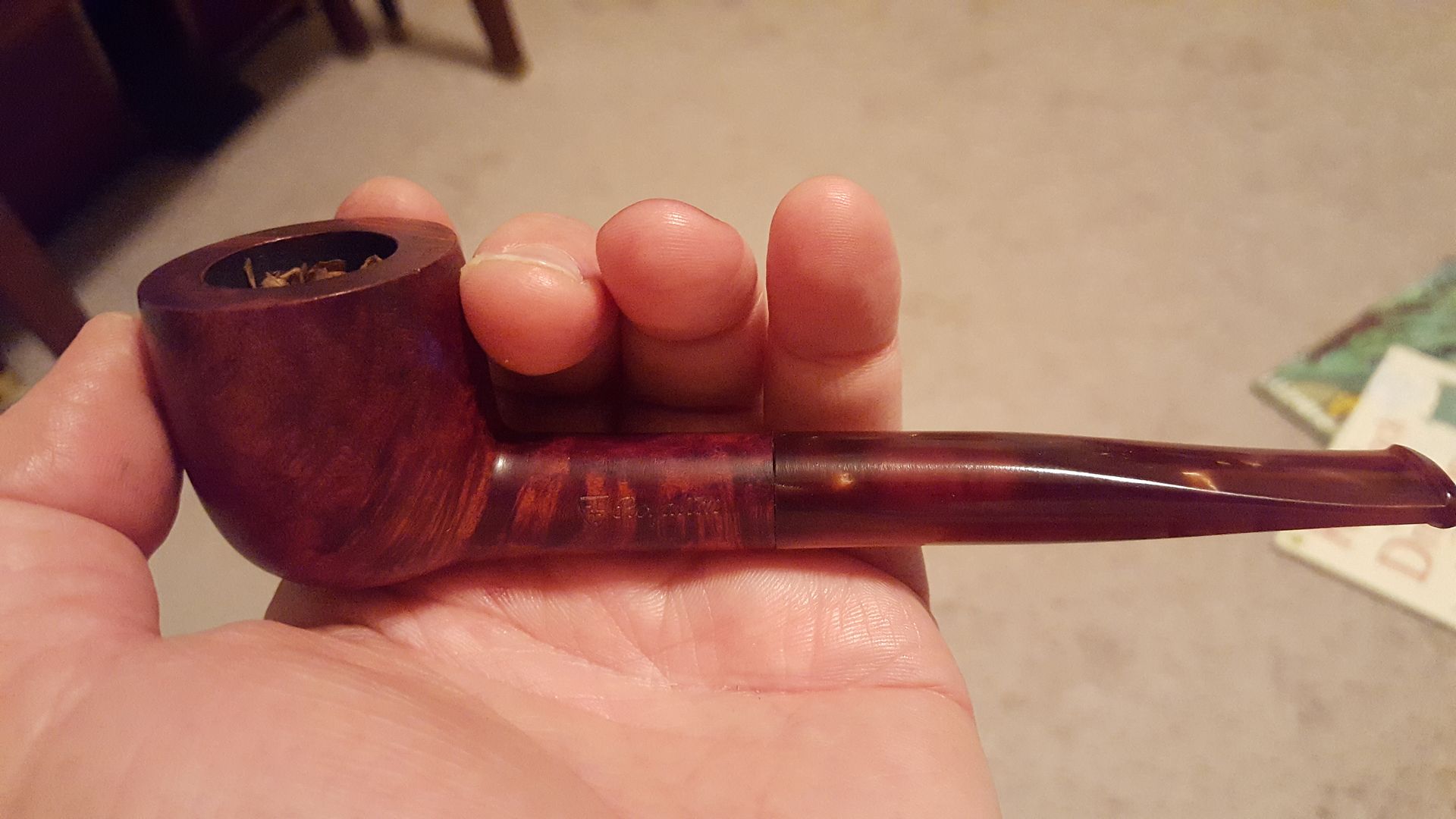 I smoked a bowl of Peretti's Coffee Blend in it last night and it smoked very well.
Fischer Pipes?
Picked up a Fischer Ramsgate Cutty some time ago and had poor luck finding much about the brand then. Now there's another one here, a Fischer Supreme which appears to be higher quality than the Ramsgate, guessing due to OK grain and the stem being some crazy hard plastic where the Supreme has Vulcanite and nice grain. Haven't come up with much info on them other than this http://pipesmokersforum.com/commu...use-of-fischer-briar-pipes.41214/. Anything at all about the c ...
new old stock adjustos
got these never smoked adjustos in trade from my pipe repair guy dave smith from indiana for a box of broken pipes i had saved over the years anyone know the shapes? or years they date? there is 3 viscounts a 49, 311, one no number a commodore 70 a west brook and a viking and 2 golden dukes the one golden duke is almost identical to the viscount but the golden duke is a tad longer and he restemed my weber scoop for 15 bucks he did a great job he has a web site to repair pipes www.briarpipe ...
Flag Waving Tamper?
Flycruiser wrote:
That looks great. About how long does it take for the epoxy to set?


I use a 30 minute epoxy but let the piece sit overnight before I drill or turn it. Although it sets up in 30 minutes ( or less depending on the epoxy being used) it takes a few hours for any epoxy to fully cure.